All activities will be COVID-safe. Masks required.
Zoom information for Thursday's event:
Join meeting online – https://villageofeggharbor.zoom.us/j/97733644963  Meeting ID: 977 3364 4963
Join meeting by calling in (NOT RECOMMENDED – AUDIO ONLY) – (312) 626-6799  Meeting ID: 977 3364 4963#
Or, watch on Facebook Live! – www.facebook.com/kresspavilion
April 22nd, 2020 was the 50th Anniversary of Earth Day!  We're so happy to be able to celebrate this year.
Every Day is Earth Day. This event celebrates the people, organizations, and businesses that uphold our sustainable culture in Door County and beyond.  Every Day is Earth Day comprises an environmentally focused weekend of resource exchange, an open house, guest speakers, demonstrations, films, and activities for people of all ages.
Thursday 4/22
Celebration of Earth Day 50th Anniversary + 1
Time
Event
Description
6 PM
Virtual Earth Day Show
Log on to our video show MC'd by Myles Dannhausen, Jr - editor of the Peninsula Pulse. Featuring "When the Earth Moves," a video from the Outrider Institute with Tia Nelson. Video shorts and slides from Door County Earth-caring organizations. The feature film, "Kiss the Ground" - An optimistic climate documentary narrated by Woody Harrelson. Join us via Zoom or Facebook Live.
Saturday 4/24
In person, socially distanced, outdoor events at the Kress Pavilion in Egg Harbor.
| Time | Event | Description |
| --- | --- | --- |
| 10:30 AM | Earth Day Yoga | Join us at the Kress Pavilion for Earth Day yoga with Ann Johnson! This will be socially distanced and masked. No sign-up necessary. |
| 11:30 AM | Herb Walk | Join us on a Herb Walk around the Kress with Dave LaLuzerne! Some plants are starting to come out, Dave will show you which plants can be used for improving your health and vitality. No sign-up necessary. |
| 1:15 PM | Experience Birds of Prey with Open Door Bird Sanctuary | Join us at the Kress Pavilion with the Open Door Bird Sanctuary for a dynamic raptor program! No sign-up necessary. |
| 2:30 PM | "Nature Knows!" at 2429 Old Lime Kiln Road, Baileys Harbor | Join us at Jim Weikel's Homestead for a tour of Meadow Land, a diverse mixed habitat near Mud Lake Refuge. There will be a discussion of wild intelligence and living together as one to thrive sustainably. No sign-up necessary. |
Map of Jim Weikel's Homestead Property:

Sunday 4/25
At the Crossroads at Big Creek - 2041 Michigan Street, Sturgeon Bay
Time
Event
Description
1-3 PM
The Big Creek Watershed Day
Crossroads at Big Creek celebrates the Big Creek Watershed with family-fun events! Join us at 2041 Michigan Street, Sturgeon Bay.

- Wetland restoration tours
- "Hide and Go Seep," a hunt of watershed features
- Watershed demonstrations
- Tree and seed giveaway by Wild Ones & Door County Seed Library

Visit crossroadsatbigcreek.org for complete information.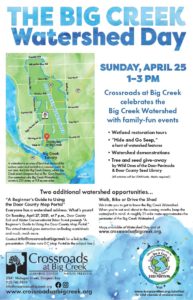 Click here to view the Big Creek Watershed flyer
_______________________________________________________________________________________________________________________________
Additional Programs (Not Part of EDED)
Saturday, April 24th at 10am – Join Gathering Ground for an online book discussion of "Braiding Sweetgrass: Indigenous Wisdom, Scientific Knowledge, and the Teachings of Plants" by Robin Wall Kimmerer.  The book is a hopeful and beautiful reflection on human relationships with the Earth.  You can buy the book or audio book through Fair Isle Bookshop.  The audio version is also available through the Door County Libraries.  Email alessandra@gatheringgroundwi.org for Zoom link.
Tuesday, April 27th at 7pm – Door County Soil and Water Conservationist, Brian Forest, presents "A Beginner's Guide to Using the Door County Map Portal."  This virtual tutorial gives instruction on finding watersheds and much, much more.  Contact info@crossroadsatbigcreek.org for a link to the presentation.  (Please note DC Map Portal in the subject line).
Walk, Bike, or Drive the Shed All Summer Long- Crossroads at Big Creek invites you to get to know the Big Creek Watershed.  When you're out and about in the coming months, keep the watershed in mind.  A roughly 21-mile route approximates the perimeter of the Big Creek Watershed.  Maps available at Watershed Day and at www.crossroadsatbigcreek.org
_______________________________________________________________________________________________________________________________
THANK YOU to our sponsors: Door County Land Trust, Passive House Alliance, Egg Harbor Green Tier, Main Street Market, Lynn's Pottery, and Crossroads at Big Creek.
THANK YOU to our supporters: The Clearing, Climate Change Coalition, DC Civility Project, DC Environmental Council, DC Master Gardeners, DC North, DC Seed Library, DC Thrive, Destination Door County, Door Landscape and Nursery, Friends of Plum and Pilot Island, Lake Michigan Wind and Sun, League of Women Voters, Nature Conservancy, Newport Wilderness Society, On Deck Clothing Company, Sustain Door, Trillium Organics, and Wild Ones.
The Steering Committee includes representatives from various organizations: Climate Change Coalition Door County, Sustain Door, Door County Thrive, Clean Water Action Council, Door County Environmental Council, Forest Recovery Project, Egg Harbor Green Tier Task Force, Donald & Carol Kress Pavilion, and the Stella Maris On Care for Our Common Home Committee
_______________________________________________________________________________________________________________________________
Included below are the resources from the 2019 festival presentations:
2019 Round Table presentation is available here: 19-04-26_EDED Green Legacy Roundtable Housing_GROUP_FINAL
2019 hand out: Earth Day handout final