WELCOME TO KRESS PAVILION
*** Please Note: The Kress Pavilion is open but as of Nov. 19 we have some new protocols
We appreciate your patience as we manage a safe space.
Here's how it works:

There restricted access during library hours. Guests who wish to use library services are asked to call ahead and make an appointment: (920) 868-2664.
 Guests are asked to limit their stay to 30 minutes so others can enjoy the space, if you would like more time, please contact staff to rent a room or use the free wifi on the porch or from your car in the parking lot.
 Please maintain social distancing and wear your mask.
 Downstairs restrooms are temporarily closed, please use upstairs restrooms. Drinking fountain closed.
Groups limited to 50 or less
During library hours, guests are not allowed to use common spaces unless they have made an appointment. Conference rooms are available for for Zoom meetings or phone calls at $10/hour.Visit: kresspavilion.org/workspace or contact Jess at 920.868.3334 ext. for more info.
All Egg Harbor Library events will be virtual this summer.
Limited Browsing and Tech Access.
Call for an appointment to enter the building to browse materials, use a computer, printer or copy machine.
All children under the age of 12 must be accompanied by an adult or guardian.
Call (920) 868-2664 for curbside pick-up information,
or visit doorcountylibrary.org/pickup-service
For your safety, Door County Library asks:
If you feel ill, please do not enter the building.
Masks are required.
Use hand sanitizer where available.
Practice social distancing at 6-feet apart.
No congregating.
For rental inquiries and questions about currently booked rentals, please contact Jess Reinke at jreinke@villageofeggharbor.org, 920.868.0123 ext. 3. Virtual tours available. *****
A place to read, create and celebrate the Donald and Carol Kress Pavilion is located in the heart of Egg Harbor and home to the Village Library and Community Center. The building was completed in early 2018 and features a second floor Great Hall event space with wrap-around porches that offer sweeping views of the bay and surrounding orchards. In addition to the modern, customizable Great Hall space, visitors have access to two meeting spaces, a lounge and living room with a fireplace.
The Kress Pavilion features current audio-visual equipment, flat screen T.V.s, and teleconferencing capabilities throughout.  On the first floor is a Makers Space, offering a space for tech and hands on programming. Residents and tourists are welcome to host a small gathering, private meeting, and celebration or simply enjoy the pavilion as a library patron.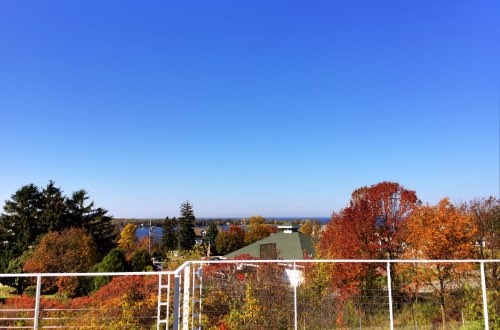 VILLAGE OF EGG HARBOR
Incorporated in 1964, the Village of Egg Harbor is was rated one of America's Top Ten Coolest Small Towns. Situated on the bay, the Village boasts seven parks, a beach, outdoor amphitheater and state-the-art Marina. A year-round destination, the Village offers water recreation, walking trails, wonderful scenery, live concerts, public art, and an enchanting variety of retail shops, restaurants, and accommodations for visitors.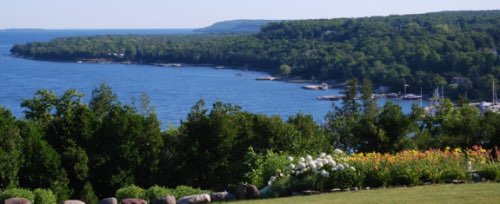 PROJECT HISTORY
What started as just a new location for the Egg Harbor Library, transformed into a community center and a hub for the residents and visitors alike. Thanks to a number of generous donors, the dream became a reality. Donation opportunities are still available, visit Door County Community Foundation for more information.