Visit the artist group's website
Showcases: Old Maid Revisited and Exotic Pollinators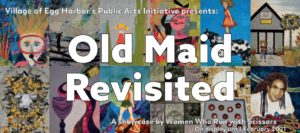 "Unlike past Old Maid decks, which included very simple themes like Tired Tom or Silly Sara, the goal was to tap into actual occupations, even if they were unusual, uncommon, or illegal."

"A wild and wooly challenge to depict any method of pollination, from boy scout feet stomping through the woods, to wind, fire, waves, and the countless number of insect, bird, or animal activities which help pollinate our planet."
About Women Who Run with Scissors
If you believe that quilts are simply blankets that are meant to be thrown over your bed, think again.  Women Who Run with Scissors challenged the traditional purpose of a quilt and turned their hobby into creative artwork.
Women Who Run with Scissors is a Fiber Art group founded in 1997 based in Green Bay, Wisconsin.  Their common interests are in creating original pieces of fiber art and enjoying the thread of weirdness that binds them all together. Those same irreverent qualities that got them into trouble in grade school are now finally working to their advantage as they blend their personal visions with the exploration of contemporary surface design techniques.
The artist group is comprised of 15 women who are first and foremost interested in having fun and making art. The order of importance flips back and forth, and many of the artists experiment with a variety of art forms and activities. Their creativity and humor shine through the pieces they create.
About the Public Arts Initiative
The mission of the Public Arts Initiative (PAI) of Egg Harboris to develop, promote, and expand the public art experience in the Village of Egg Harbor. The Village understands the positive impact the arts have on cultural tourism and economic development for our community. It is their goal to create and maintain the highest quality public art program, to be recognized locally, regionally, and nationally, further enhancing the extraordinary reputation of the Village of Egg Harbor, Wisconsin.  The PAI also sponsors workshops and special events throughout the year to promote education, participation, and the enjoyment of the arts in our community.